The Lost City, Sun City, The Palace, Valley of Waves – the whole concept was befok when Sol built it. Gambling was also illegal everywhere, which is why it needed to be out in the North West.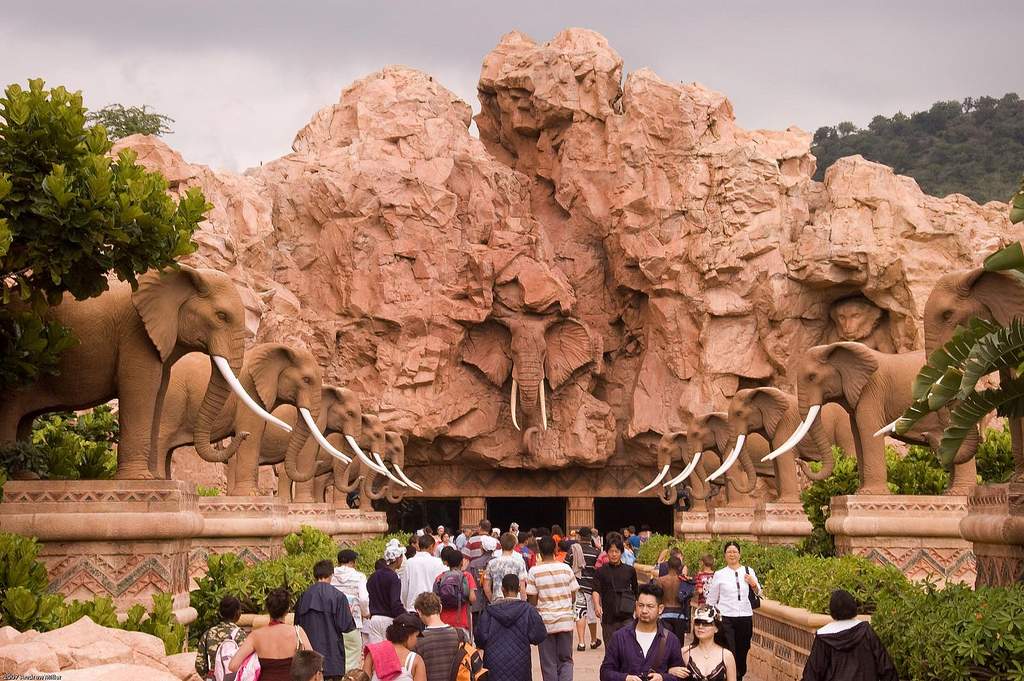 I can't call myself a frequent visitor – at all – I've been there twice. Once when I was about 12, and again about two weeks ago. I bought my parents tickets to see Josh Groban.
I think I can call the experience a steady downward spiral.
Firstly, I haven't been privy to this little rule hotels have, which tells us we cannot stay there for one night over a weekend. Obviously they want to capitalize on their weekend income, but it's straight up bullshit. Even half the lodges just outside Sun City demand a minimum of two nights. After trying to find a reasonable solution, and even considering booking two nights IN Sun City – and finding their prices to be hilarious – we decided to drive there and back.
This is no trip to Pretoria, mate. Solid two and a half hours. In fact, three, because the last 70 kilometers are on a pot-holed road with kids and goats running around everywhere. Not for the faint hearted, but we were left with no alternative. I'd also been assured that the drive wasn't THAT bad, and figured it would be doable with four of us in the car to keep driver awake and on his toes.
Unfortunately, when casinos in cities were made legal, it was bound to give Sun City a punch in the nethers. We have Monte Casino, pretty ideally placed in the middle of Jozi. Even Emperor's Palace – despite how much I HAAAATE it and its parking issues. There's no need to drive three hours to go gamble and be dodgy. We can be dodgy right here.
But then I figured, well, they have that wave valley, and the Palace, and that bridge and stuff – it must still have SOME appeal, right?
…
That place is falling apart.
I didn't venture outside the Cascades and general entertainment area. But what I did see did not entice me. The lifts are old. The carpets have not been redone since Sol built the place 31 years ago. And they smell like it. The air-conditioning doesn't work. In the superbowl, in the movie theatres – schvitsing nightmare. And it seems very small. Maybe that's just post-Vegas Kimmeh, with all the huge casinos I've seen recently.
I don't mean to be slating, but impressive it was not. The restaurants are great – good food, not so expensive that you may double-take after thinking the prices are in Zim dollars. The movies are latest releases, even though there are only four cinemas. And no air con.
And my folks really enjoyed Josh Groban. But that's not to Sun City's credit, that's because he's a great entertainer who engages his audience. According to my mom. (I didn't watch the show, you see.) But the Superbowl was boiling hot, and the very expensive front row seats were those plastic bowls you sit on in school halls. Poor mummy had to shimmy and shake for about twenty minutes after the show to get the feeling in her bum back.
My point, after this long-winded description, is that there is no longer any point to hosting events in Sun City. Other than the Nedbank Golf Challenge. Or poker tournaments maybe.
Perhaps I should be more specific – there is no good reason to have concerts at Sun City. And I'm bitching and whining, because Michael Buble is coming to SA, and will be performing at… Sun City.
(I wont launch into why I LOVE MB, it's a personal choice okay! Get bent.)
It's like those selfish friends, who have almost no friends or family in Cape Town, but insist on getting married at a wine farm there. You have to fly your ass there, get accommodation, probably for a whole weekend 'cause the bastard hotel wont let you book one night only, pay for dinners and lunches and even get presents for the rat bastards.
A lot of us say this to those friends:
And we don't go to their weddings.
But I WANT to go to MB.
And I really WANTED to take my parents to Josh Groban for their xmas pressie, 'cause they really love him. And that sacrifice was hundreds, they've had to schlep much further for me.
But I think the expense and façade that is this Sun City shpiel (to be topped off with boiling inside a glorified potjie pot) is not worth it for me.
Sorry Michael… Maybe next time.